On 3rd Decemeber in 2016, Shanghai Fudan-Zhangjiang Bio-Pharmaceutical Co., Ltd. ("FDZJ") officially announced the launch of FuMeiDa (Hemoporfin) to the market. This product is used on the treatment of port wine stains ("PWS") which are known as "red birthmarks". As a new photodynamic drug with new target, new compound and new indication, Hemoporfin became the first drug for the treatment of PWS worldwide and belongs to Chemical Drugs Class 1.1.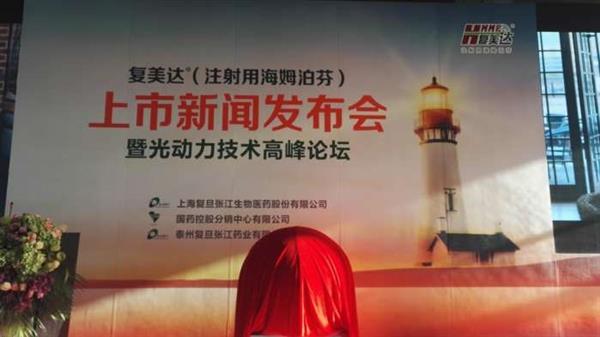 Professor Zhu Xuejun from Peking University, as well as honorary chairman of the association, said that "Among 5000 domestic pharmaceutical enterprises, only single-digit approval for Class 1.1 new drugs every year."
According to the report of Professor Tu Ping from Peking University First Hospital, photodynamic technology of FuMeiDa has remarkable effects on treatment of PWS, the effective rate was 97.4% after two treatments, the cure rate was up to 28.1%.
It is predicted that the yearly demand for treatment of PWS will be one billion RMB, there are up to million stock patients over the past decades, the demand will reach to 20 billion RMB in the future.
After the market launch, FDZJ will work with 20 upper first-class and specialized hospitals to sponsor a love deliverance activity which aims at poor red birthmarks patients. This activity is intended to provide free treatment to qualified poor families of PWS, which let the PWS patients regain new hope.